We supply whole set hologram machines including hologram master shooting system, electronic forming machine, hologram embosser, Lamination & coating machine and die-cutting machine. Affordable Hologram Machinery Hologram Sticker Production Photoes Hologram Hot Stamping Machinery and Project
There're two kinds of hidden text or images available for Hologram sticker. This two kinds of hidden features increase hologram sticker security capability agaist counterfeit strongly. First type of hiddnen text in side hologram sticker is laser readable hidden text(image), which also called laser beam hidden text. This kind of hidden text of image on hologram sticker just can be seen with help of laser pointer (laser reading pen). Another type hologram hidden text called Morse Hidden/Mole hidden text which has to see hidden text with help of Decode film. We can read simple text of image once we cover some area of sticker by this piece of Decode film. We also make latest amination hidden text too, it's best security hidden text.
Laser readable hidden text(image)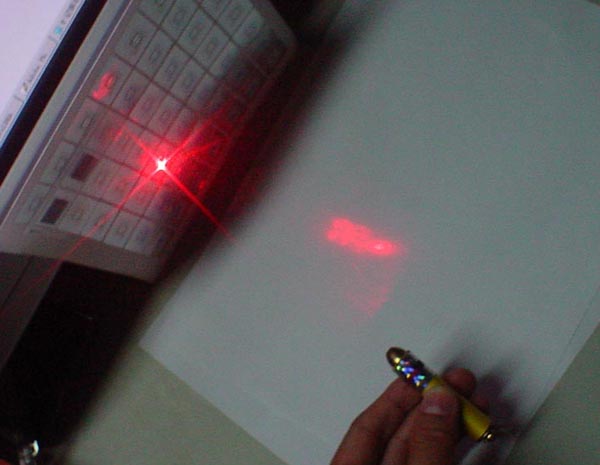 Laser readable hidden text 'SE'. You can see this hologram hidden text 'SE' on paper. The 'SE' letter is reflected out from hologram sticker and displayed on white paper when we using the laser pointer to identify this unique graphics by trained personal.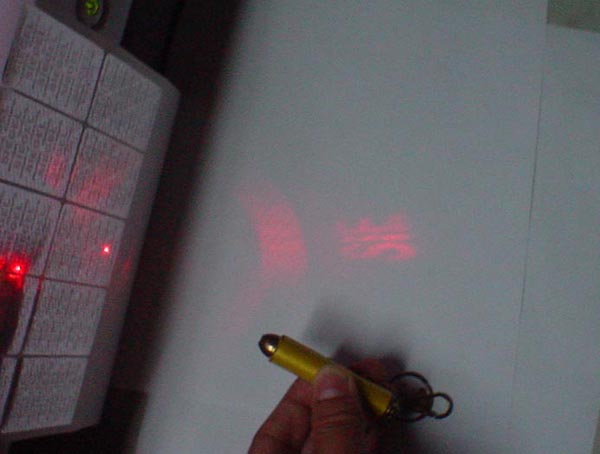 Laser readable hidden 'SIE' on hologram sticker. The 'SIE' text is reflected out on white paper.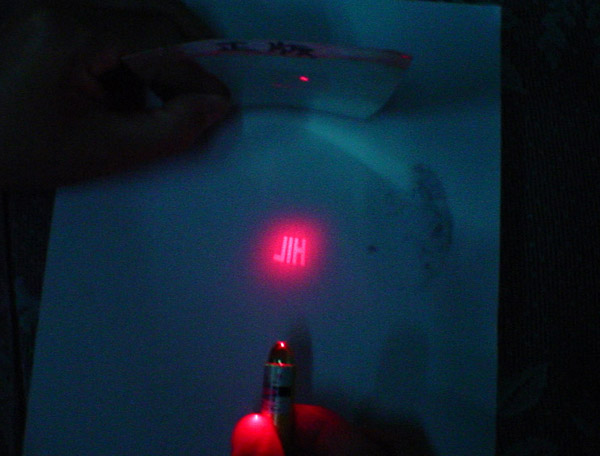 Laser readable hidden on small hologram master text 'JIH'. The 'JIH' is reflected out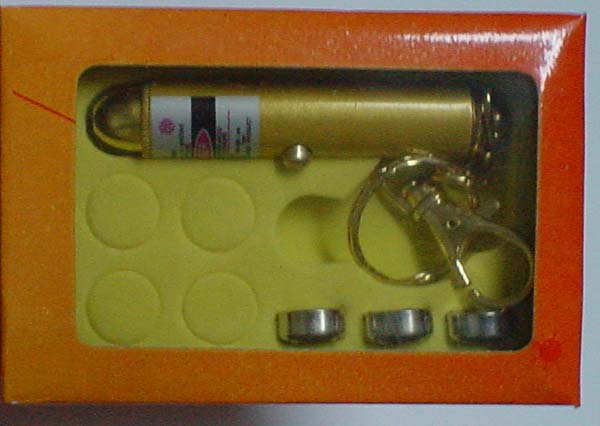 Laser reader(Laser pointer)
Mole(Morie) hidden text/image or Raster effect, is a hidden effect which also called Moore Effect or Morie Effect.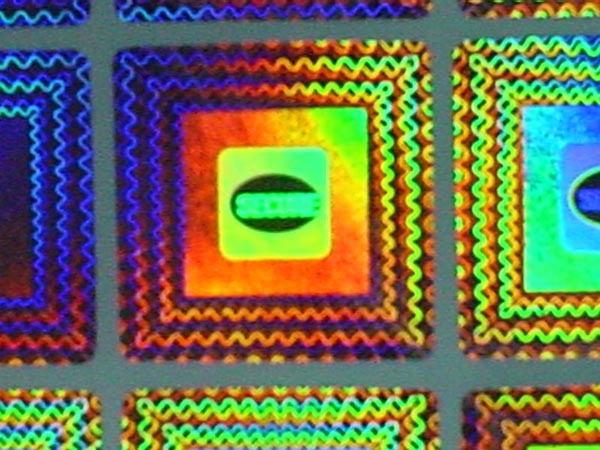 This photo is hologram sicker without decode film to cover it on.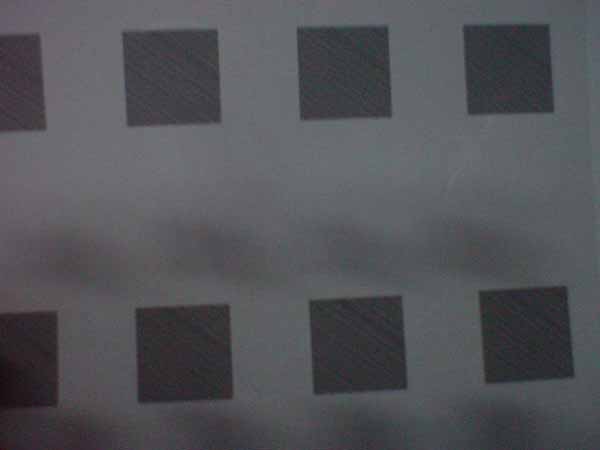 It's morie decode film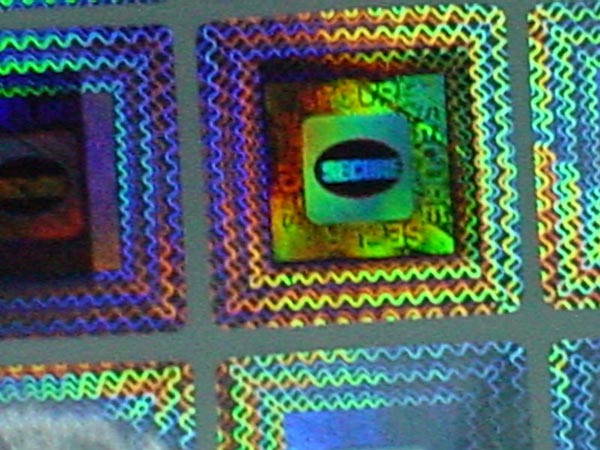 We can see hidden text displayed when we cover Mole Decode film onto hologram sticker. The hidden text is 'SECURE'. When you remove the Decode film, the word 'SECURE' disappeared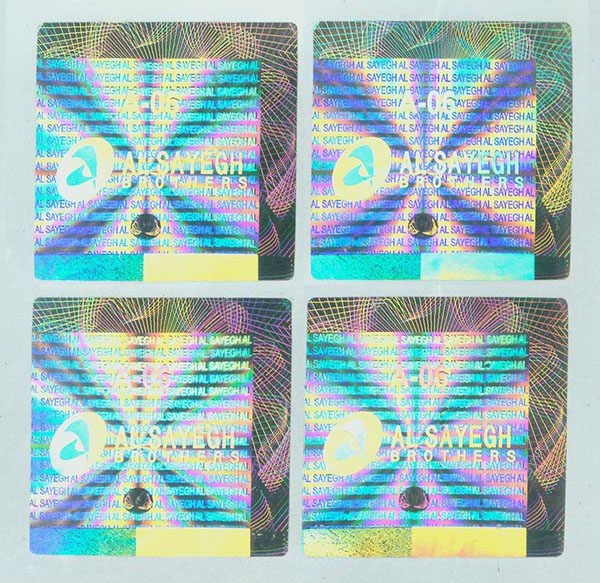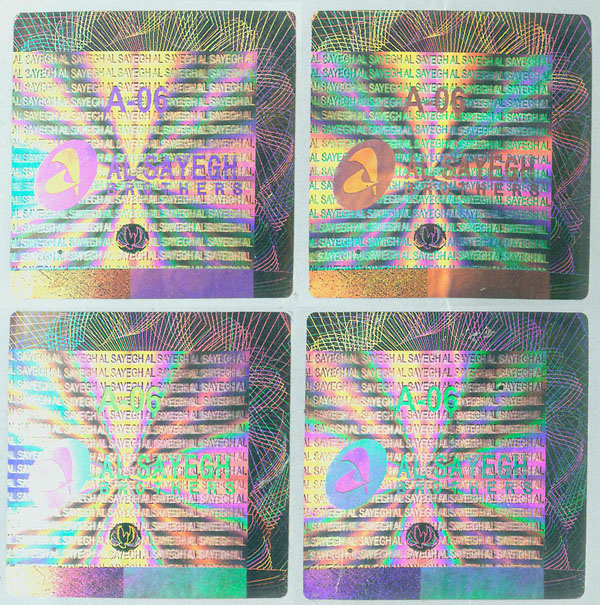 This dot-matrix hologram sticker has two kind of hidden text recombine together
How to design hidden text(image) in your artwork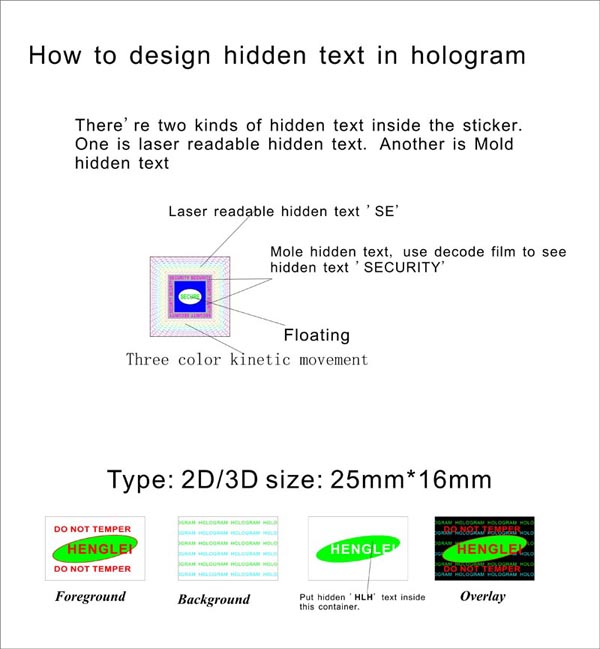 To make hidden text into hologram sticker, what's you have to do is just show us what's kind of
hidden text(image) you want in your customized design, then we shoot it into hologram master origination.
General Design Stock Hologram Sticker No.1-No.30 Stock Hologram Sticker No.31-No.60 Stock Hologram Sticker No.61-No.90 Other Holograms Sticker Samples
Hologram Label Transparent Holographic Decal Sticker in roll format and application machine New Big Master Origination Enhanced Security Feature Holographic Sticker With Sequential Numbers 'VOID', 'ORIGINAL' Pattern Released Hologram Overprinting Released Hologram Two Kind of Hidden Text(image) in Hologram Big Size Holographic sticker UV Ink and Thermochromic Ink Scratch off Hologram Label Holograms Security Holograms Effect Photoes Special Shape Cutting Hologram Sticker in roll